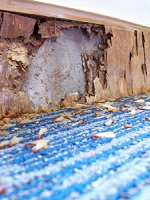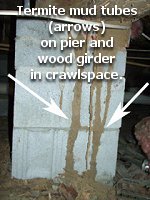 Know the Difference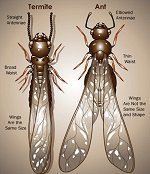 (click image to enlarge)
TERMITES
Each year termites cause billions in damage to homes and other structures nationwide. Many years they are more destructive than fires, floods, and storms combined. Proper treatments and thorough inspections performed on a routine basis are your best defense against these insects. Protect your home by putting our years of knowledge and field experience to work for you!
TERMITE FACTS:




Termite colonies contain up to 2 million members.
Termite reproductive's swarm in the spring in an effort to start new colonies.
Termites construct "mud tubes" alongside foundation walls in order to travel from the ground to the wooden portions of a structure.